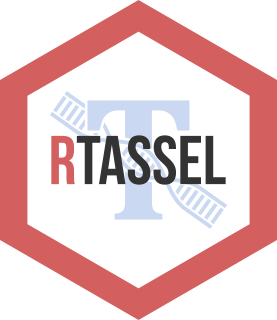 Filtering Genotype Tables
Brandon Monier
2023-09-22
Source:
vignettes/genotype_filtration.Rmd
genotype_filtration.Rmd
Introduction
Genotype table overview
In this vignette, we will discuss how you can filter genotype tables in rTASSEL. As a reminder, a genotype table in TASSEL is essentially an \(n \times p\) matrix consisting of \(n\) samples or taxa with \(p\) genotypic observations. To illustrate this, see the diagram below:
In this illustration, sequence information is processed for variant sites of each parental copy. Variant data is partitioned into an \(n \times p\) matrix for each sample and relevant variant marker information (e.g. 0:2). This includes:
The TASSEL index for each variant site (<this value> :)

Note: since TASSEL is coded in Java, this value will start at 0!

The physical position (bp) for each variant site (: <this value>)
Genotype information (e.g. each \(n \times p\) element) can be viewed in several ways. The default view (as shown above) reflects the following:
| Cell Type | Definition | Color |
| --- | --- | --- |
| Major alleles | The most frequently observed allele of each column | Yellow |
| Minor alleles | The least frequently observed allele of each column | Blue |
| Heterozygous | Sites where parental copies differ (e.g. C:G) | Green |
| Unknown | Sites where no information is given (e.g. NAs) | Grey/White |
Filtering basics
Since TASSEL allows for many features to be represented in a genotype table, rTASSEL's filtration parameters are numerous. In the following sections, we will discuss how each set of parameters work. In general, these filtration schemes can be applied for samples (i.e. rows) and marker information (i.e. columns).
The two main methods to accomplish this are:
For each section example code will be given with an illustrated genotype table to explain each method. Prior knowledge about rTASSEL data structures is needed so please refere to the vignette Getting Started with rTASSEL if you are new to this package!
Note: We will be using the the magrittr pipe operator %>% for the following examples. More information about this can be found here.
Piping methods together
Example 1
Like with all good practices in R and programming, various rTASSEL methods can be "piped" together in one continuous flow of steps. For example, we could filter simultaneously on sites and taxa using both methods in conjunction with the magrittr pipe operator %>%. Let's use our previous toy data set: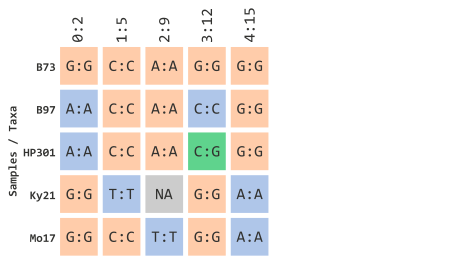 Let's (1) select taxa IDs that start with the letter "B" or "K" and (2) select indexed TASSEL marker sites 1 through 3. This will filter elements shown below:
Example 2
We can also implement the same methods with other rTASSEL methods. In this example we will (1) select taxa IDs that start with the letter "B" or "K", (2) select indexed TASSEL marker sites 1 through 3, and (3) export to a VCF flat file:
%>%


 myGT 

filterGenotypeTableTaxa

(
     

taxa =

 allTaxa 

%>%

 

str_subset

(

"^B|^Ky"

)
         

%>%

 
     ) 

filterGenotypeTableSites

(
     

siteRangeFilterType =

 

"sites"

,
         

startSite =

 

1

,
         

endSite =

 

3


         

%>%

 
     ) 

exportGenotypeTable

(
     

file =

 

"my_filtered_gt.vcf"


         

format =

 

"vcf"


             )